Seen this cheaper elsewhere?
Call us on 03333 11 00 66
Automatic backup software is a must have for any critical business data. Software should provide quick data recovery after catastrophic events while being easy to operate and support.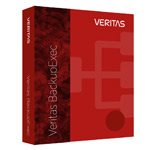 Veritas Backup Exec
Backup Exec from Veritas features a newly redesigned administration console and fantastic new features like VMware and Hyper-V backup, bare-metal disaster recovery, and 'no-hardware disaster recovery' via physical to virtual conversion.
Servers Plus is a subsidiary of Target Components Ltd. registered in England No. 3113281.