Seen this cheaper elsewhere?
Call us on 03333 11 00 66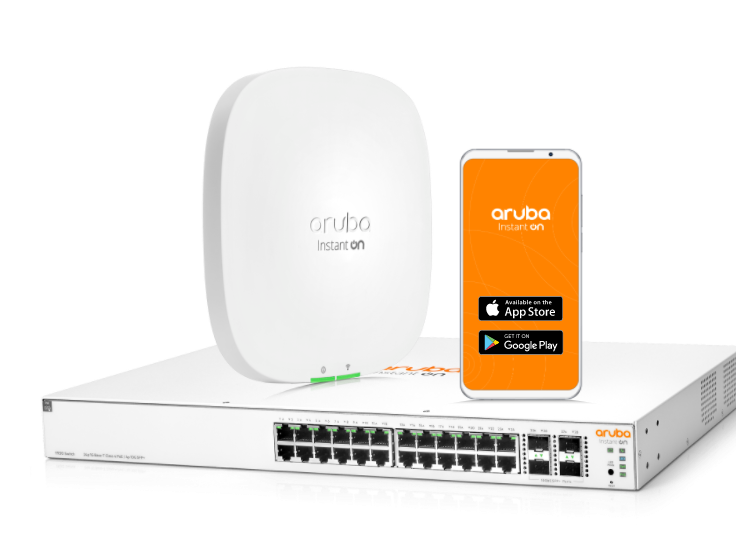 Business Wi-Fi made incredibly simple
Check 'reliable, secure, fast Wi-Fi' off your to-do list. Set up your network in minutes with our mobile app and enjoy fast speeds inside and outside. Manage your business network from anywhere, easily. Relax knowing your business, employees, and customers are protected by the latest security automatically - at no extra cost to you.
Enabling more connected devices and with faster speeds, Aruba's Instant On wireless access points offer options to meet any need at an attractive price. From the office, to the parking lot, and everywhere in between, you won't experience dropped calls when moving around. You can also expect the same reliable signal strength no matter what device you're using.


Easy set up and management

The Aruba Instant On App makes your business Wi-Fi incredibly simple. Set up takes a few clicks - no tech experience needed. Monitor and manage your business network anywhere from your phone, and keep tabs on who is connecting to which sites and apps.


Blazing fast and wicked smart

Automatic data routing keeps all your info flowing on the fastest path. Automatic software updates keep your Wi-Fi operating at top speeds. If an error is detected, your network heals itself. Connect all your devices, even those with a wired connection, including POS terminals, security cameras, smart locks, printers, smart TVs, and more.


Security at no extra cost

Security shouldn't be an add-on; it's a must-have. It's included at no extra cost with Aruba Instant On. Easily separate business and employee traffic from customer traffic. Set hours for network availability and block specific sites and app categories to ward off malicious activity.
Get the right Aruba Instant On setup for your business
Tell us a bit about your business needs and your space, both indoors and out. We'll put together the right setup that'll give you great coverage and blazing-fast speeds.
Looking for configuration-free switching?
Introducing the new unmanaged Aruba Instant On 1430 Switch Series. These easy-to-use switches help connect and share common resources like printers and access points without any complicated network configuration. With plug-and-play operation and PoE models, these switches deliver simple, reliable connectivity for small offices and home offices.
Aruba Instant On models in stock now...
---

Servers Plus is a subsidiary of Target Components Ltd. registered in England No. 3113281.