Seen this cheaper elsewhere?
Call us on 03333 11 00 66

Ubiquiti UniFi Video
The UniFi Video range from Ubiquiti offers a comprehensive high-definition IP video surveillance system, combining enterprise features, effortless configuration and remote management through the UniFi video controller.

The UniFi Video controller software is available as a free download for Windows or Linux. It also comes pre-installed on the UniFi NVR for quick and easy deployment.
Features
Feature-Packed User Interface
Accessible from a web browser, the UniFi Video interface was designed to be easy to use yet packed with advanced features. The UniFi Video interface is incredibly intuitive and loaded with powerful features such as detailed statistical reporting, multiple views, versatile camera settings, advanced analytics, and customizable event recordings.


Plug and Play Installation
Automatic camera detection in the UniFi Video software makes it easy to install and deploy cameras. UniFi Video Camera settings are integrated into the UniFi Video software. Configure camera settings, reboot the camera, or upgrade the firmware from the UniFi Video interface.


Camera-Based Motion Detection
The UniFi Video cameras handle motion detection instead of the server, relieving the workload on the server and ensuring that compression and noise won't affect motion detection.


Additional Live Views
Playlists can be created with a configurable live camera feed rotation. Define the cameras you want included in the playlist and how long you want them to appear on the screen before moving on to the next live feed.


Disk Management Features
UniFi Video has automatic recording management to free up disk space. User-definable disk space and date-based auto purge allow users to keep a set amount of free disk space or automatically delete recordings after a certain number of days. Another storage feature is the ability to map external USB or network storage drives.


Cost-Effective Solution
Shattering conventional industry thinking, Ubiquiti offers UniFi Video's powerful IP surveillance software at no additional cost. No huge upfront costs, no monthly subscription fees.


Mobile App
UniFi Video may be accessed from iOS and Android using the UniFi Video mobile app.
UniFi Video Solution Example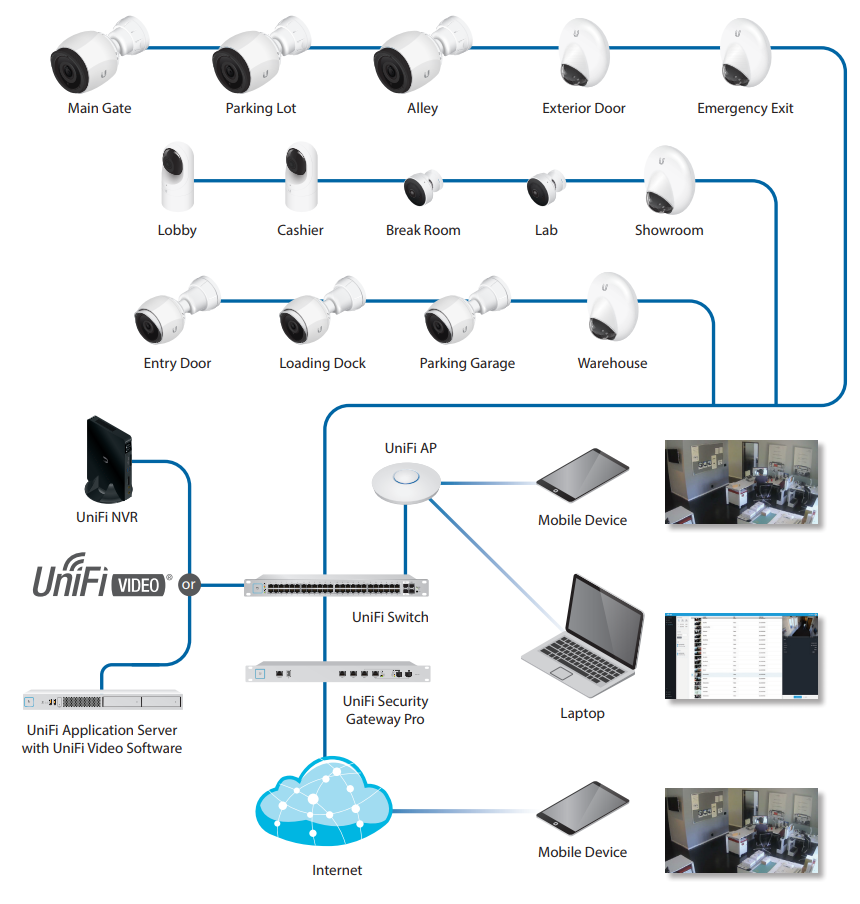 Ubiquiti UniFi Video products in stock now...
---

Servers Plus is a subsidiary of Target Components Ltd. registered in England No. 3113281.