Seen this cheaper elsewhere?
Call us on 03333 11 00 66
Data & Voice Circuits
Spread the cost with monthly subscriptions!
We work with one of the UK's leading providers of voice and data packages, and together we can combine a tailored package with a single monthly subscription to help you lower the cost by enabling you to only pay for what you use.
Voice communication is changing - the way we consume it, the expectations we place upon it and the potential it has to change businesses.

Our dedicated voice communications application that was built for channel partners and direct clients alike, enabling us to work with SMEs right through to large corporate clients with very specific needs.

Delivered via the backbone of our partners secure UK network, with leading-edge features that remove the barriers of time, format and location. And the result? Slick, seamless and undeniably clear comms, every time.
KEY BENEFITS
Cost-Effective
Drive down CAPEX and monthly budgets via OPEX-friendly cloud models and monthly contracts on a cost-per-user basis.


Feature rich
Compared to traditional systems, multiple 'virtual' services can be applied, such as call directing, call recording and CRM integration.


Flexible working
One-number and soft client technology facilitate a mobile workforce.


Improved productivity
Collaborative tools and telephony features, such as the presence status and instant messaging.


Disaster recovery
Re-route calls with one-click DR, allowing business communication to route to your employees rather than your building.



Avaya makes it easy for you to bring your own digital transformation strategy to life and achieve a marketplace advantage... improve your efficiency, productivity and responsiveness and get ahead of your competition.
Introducing Avaya Equinox - A single app for calling, messaging, meetings & team collaboration
With the Avaya Equinox solution, Avaya embeds communications directly into the applications, browsers and devices your employees use every day to create a single, powerful gateway for calling, messaging, conferencing and collaboration. We free people from their desktop and give them a more natural and efficient way to connect, communicate and share-when, where and how they want.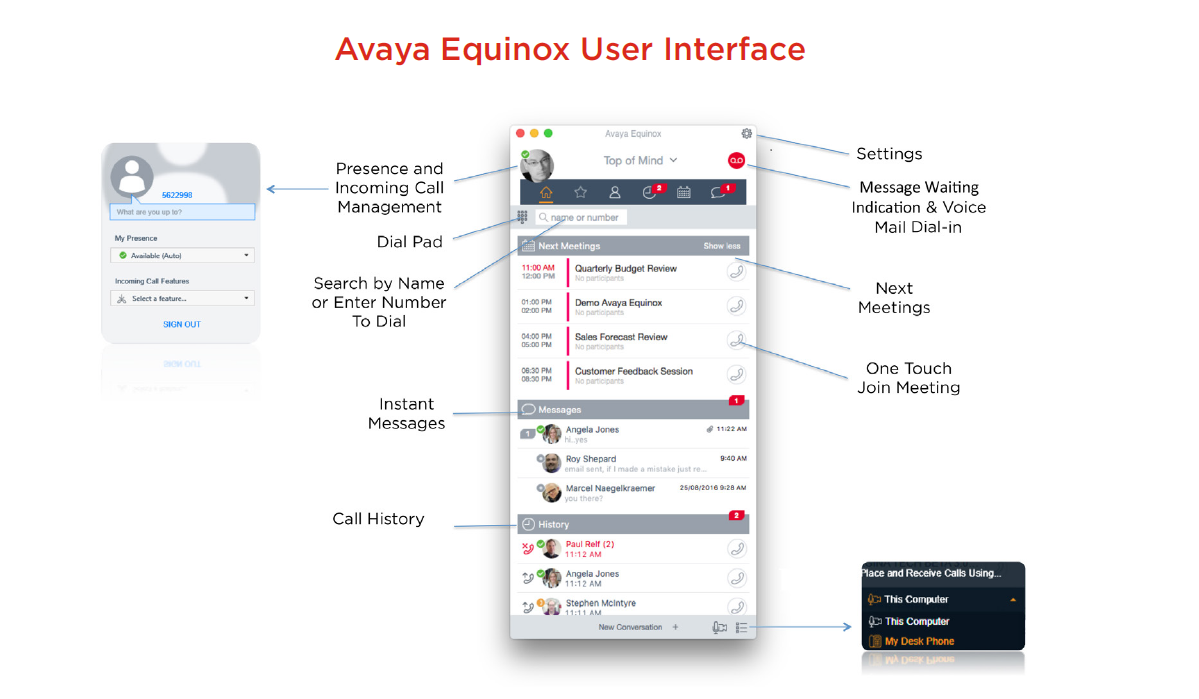 KEY CAPABILITIES
Always on messaging continuity to virtually any media device
In-app UC experiences embedded into the business processes employees use every day
Web collaboration & event streaming for up to 100,000 live event viewers, screen and application sharing, white boarding and remote desktop control
Rich HD video & high-scale audio interoperable with multivendor room systems, with "Hollywood Squares" conference view that supports multiple large meetings
Software-based with zero download for frictionless collaboration via WebRTC and HTML5
Flexible deployment options on-premises or in the cloud, with scalability as your needs grow
Avaya Equinox Specifications
Operating systems
Apple iOS
Android
Microsoft Windows
Apple Mac
Security
AES-256 cipher support
TLS version 1.2
Max current calls
15,000
Max users
400,000
Max user registrations
H.323: 10,000
SIP: 150,000
Max participants per meeting
500
Max MCUs
50
Max participants per streaming event
100,000
Speak to one of our pre-sales team today on 03333 11 00 66 or email enquiries@serversplus.com for a quote tailored to your needs!

Servers Plus is a subsidiary of Target Components Ltd. registered in England No. 3113281.