Seen this cheaper elsewhere?
Call us on 03333 11 00 66

SMB Solutions from Hewlett Packard Enterprise
Looking for a solution to meet your needs? Speak to our accredited pre-sales account managers today!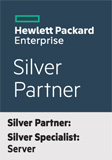 As a HPE Silver Partner, we work closely with Hewlett Packard Enterprise to provide the best possible solutions to meet your needs. We also use our buying power with UK suppliers to provide hugely competitive prices across the whole range of HPE products. Speak to our team of accredited pre-sales account managers on 03333 11 00 66 or use our request a quote service and we'll get back to you straight away!
Try the iQuote online configurator
If you're looking to configure a HPE server, storage or networking solution online or find compatible options for an existing solution, give our iQuote tool a try. Launch iQuote
Qualifying HPE products on promotion this month (click to expand)

Servers Plus is a subsidiary of Target Components Ltd. registered in England No. 3113281.