Seen this cheaper elsewhere?
Call us on 03333 11 00 66
Fujitsu Reliability Promise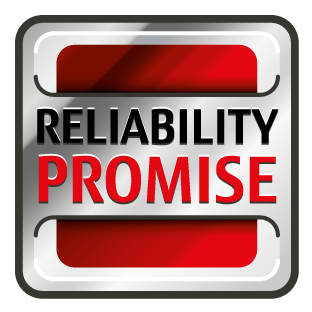 If your Fujitsu PRIMERGY server or CELSIUS workstation fails within the first year, Fujitsu will repair it and give you your money back in full - making it completely free of charge!

At Fujitsu we develop our products to meet the highest standards in both quality and technology. We are so sure of the excellence of our servers that we have created our reliability promise should a hardware defect covered by the Fujitsu standard warranty for your VFY rack or tower server occur within one year of purchase we are offering our customers a repair and a full refund of the purchase price.

In order to take part in the Reliability Promise please register your eligible product using the form below within 28 days of the date of purchase. Please note that completion of this form does not replace registration of your product for your Fujitsu Standard Warranty which should still be completed here

Once registration has been completed you will be emailed a unique code which you will need to retain in case of a claim under the promotion.
How to register
In order to take advantage of the Reliability Promise refund, you need to register your product within 28 days of purchase (the date shown on your invoice). Simply fill out the registration form here once you have taken delivery of your product.
How to claim
Should the worst happen and your Fujitsu PRIMERGY server or CELSIUS workstation fails within one year of purchase, and you have registered the product for the Reliability Promise, simply call the Warranty Support number (08702 434 399) and a call centre agent will help you through the process of getting it repaired.

Once the product has been repaired, fill out the claim form within 14 days of the repair to claim back the purchase price of your product. Ensure you have the following details to hand: -
Serial number of your eligible product
Reliability Promise reference number (emailed to you when you register for the Reliability Promise
Warranty Call Number (given to you during the warranty repair process)
Proof of purchase document (your invoice, to confirm purchase price

Servers Plus is a subsidiary of Target Components Ltd. registered in England No. 3113281.